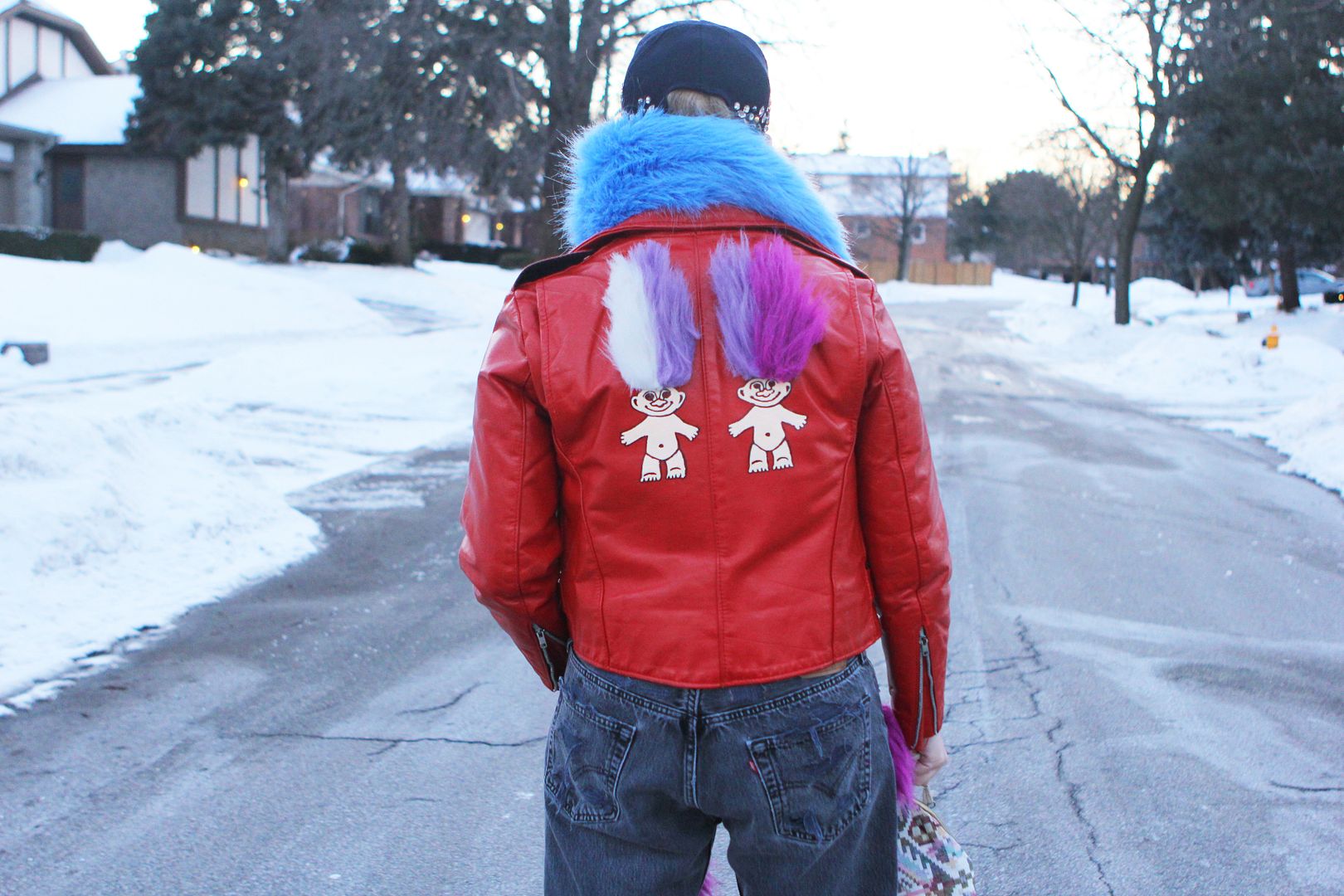 We had the BEST time making our Out of Con"TROLL" DIY troll creatures! We painted them on jeans, leather jackets, bags and jean shirts. We made them all afternoon with our amazing friend and artist
Danielle
. We have been troll obsessed since we were eight years old and have quite the troll collection. They were super easy to paint, and once we got the hang of it, we wanted to put them on everything! You could say, we have this uncon"troll"able troll obsession! We then went outside for a sTROLL and took some pics of our masterpieces!
Supplies
:
1. Troll drawing- can find this online to use as a
template
to outline body and help draw the face
2. Hot glue gun
3. Faux fur (for the hair) We bought a vintage faux fur pillow for $3 at Salvation Army to cut up
4. Article of clothing (we used all vintage pieces)
5. Acrylic paint
6. Permanent marker
How to make it
:
1. First print out a template of a troll. You can cut off the hair on the paper too because that part is the faux fur and you just need the body part to outline so they look somewhat the same size.
2. Outline the troll's on your jeans, jacket or purse with a permanent marker. Free hand the face! Some of our troll's face's turned out pretty funny looking and it makes them even better and more troll like.
3. Paint the troll's. Mix a paint color for the troll's skin and paint around the permanent marker. Don't worry if you cover up the face a bit with the paint. You can outline it again with the permanent marker and trace over your steps once the paint has dried.
4. Cut long big triangles of the faux fur and hot glue gun them on the troll's head as their hair... and Voila... you have your very own Troll!
Pin It Now!