We showed our Swagger by customizing and DIY'ing our
COACH
Swagger bags! You can pick your size, colour and make it your own. This was such a fun DIY for us because we pulled out our acrylic paints, sharpie markers and started drawing. Sam was inspired by dancing fruit and the song, Tutti Frutti! So she grabbed out her markers and started drawing the funniest fruit monsters. Cubby even jumped in it and made it his own. Cailli was inspired by Hawaii and Smiley face stickers... Super Kawaii, she even put a felted bunny on it. Cailli always carries all her COACH
agenda
, iPhone and her day to day stuff in it which includes her camera, wallet and sunnies for blogging. They were really fun to make and even more fun to wear! #WhatsYourSwagger

Sam's COACH Swagger DIY Bag
: Tutti Frutti Dancing Fruit
Bag- COACH
Swagger 37 Carryall
in color block leather
Coat- COACH Fluff
Oversized Coat
Jacket-COACH
Badlands Flora Blouson
Zip Jacket
Shoes- COACH
Rivet Sling
Light Pearl
Pants- Comme Des Garcons Patchwork Jeans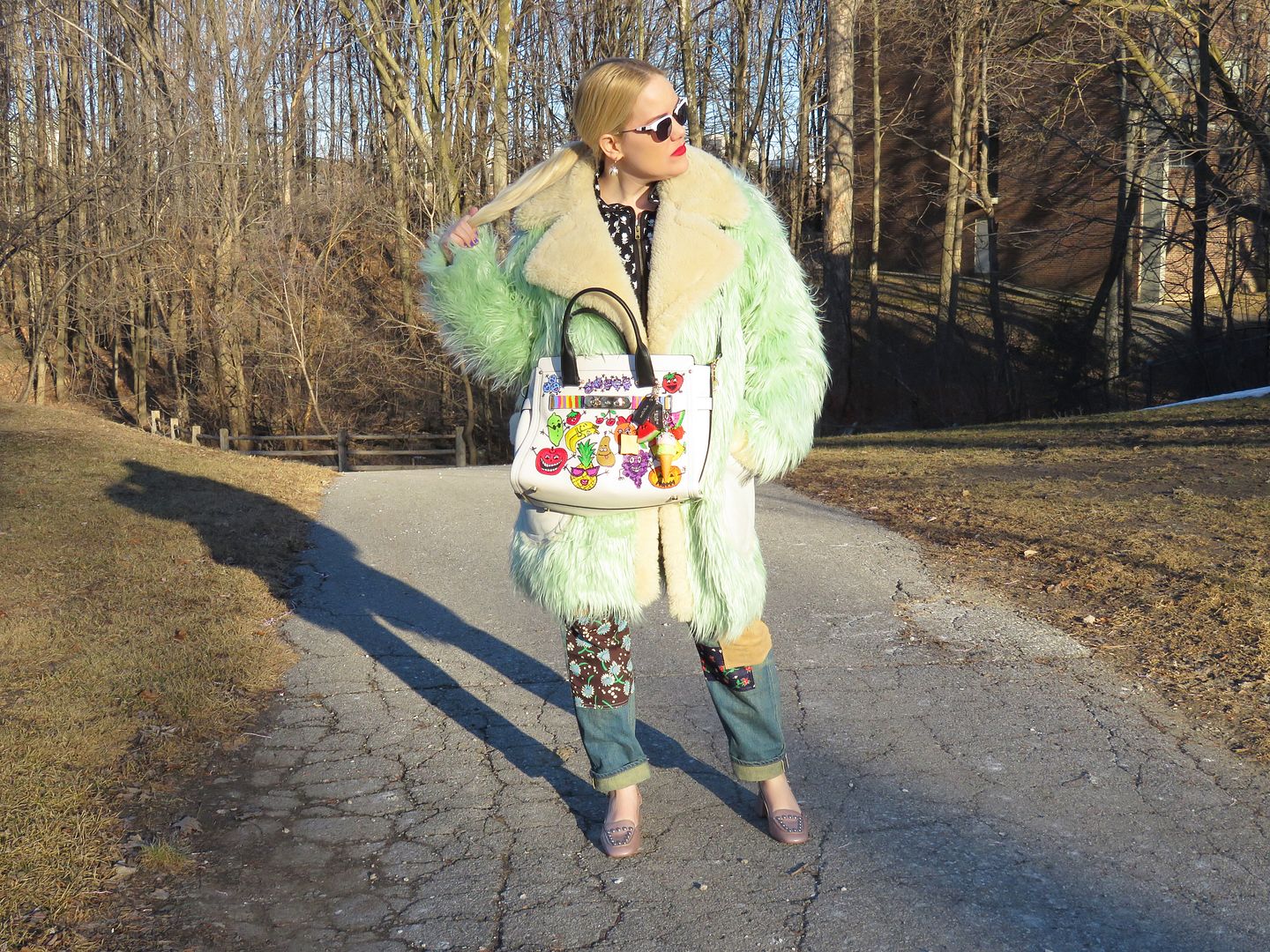 STEPS:
1. Get 3 Permanent markers and draw fruit creatures all over you Swagger: lemons, limes, pineapple, apples, pears, grapes, cherries, oranges, bananas, tomatoes, blueberries, blackberries, watermelon and strawberries
2. Add faces, arms and legs to them!
3. Pull out your acrylic paints and paint them in (TIP: make sure to use good paint brushes, it makes it a lot easier to fill in the fruit creatures)
4. Add fun charms to the bag!
Get the Look:
Cailli's COACH Swagger DIY Bag: Supper Kawaii
Necklace- COACH x BASEMAN
Necklace
Agenda- COACH
Agenda
STEPS:
1. Print out Hawaiian print
2. Cut out the print and number the petals
3. Take the petals and tape them to the bag.
4. Outline them with a permanent marker on the bag
5. Paint the flowers in (with a few coats)
6. Free hand the smiley faces with paint
7. I added a felted bunny charm
Get the Look:
Pin It Now!