It is officially chocolate day! We teamed up with
Commonthread
to create the chocolate bar jeans of our dreams. And we are talking about a whole lot of variety! We painted them by hand and embroidered them with DMC thread. Not only did these jeans put us in a chocolate frenzie but we had the best time making them and eating some chocolates along the way.
SUPPLIES:
A pair of jeans Pants
Paints and brushes
Permanent Marker
Pen
DMC Embroidery thread
Hand sewing needles and thread
Scissors
Fabric Glue Optional
Jean patches- extra denim
We used an old pair of vintage Levi's jeans because we love how they fit. Make sure you use jeans you love, because with all the time and effort of making these, you gotta love them when they are finished. We then washed a bunch of cut up denim swatches and threw them in the dryer so that they would have frayed raw edges. We had different color denim scraps which you can use as well. We love the trend of patches on jeans. But this is taking it to the next level by making your own patches. Next up we printed some chocolate bars that we are obsessed with to follow as a guide. On the darker denim swatches we used a permanent marker to free hand the chocolate bars. On the lighter denim swatches, we mapped it out with pen. We think its better just to free hand and have fun with it and not worry if they look a little kooky. It makes the jeans look more hand made and have more personality. We almost ran out of room when doing the last "s" on the Snickers bar and now it looks extra cute. After painting the jeans on the patches we then took the embroidery thread and stitched highlights and creases in to the hand painted chocolate bars. Up close you can see the stitching, but from far away it just blends right in. Its those special little details up close that makes it look exquisite. The last step is hand sewing the patches on the jeans. We did this with a needle and thread and a quick whip stitch up all sides. It's helpful to use a piece of cardboard in between the pant leg to help the hand sewing process. You could also glue the patches with fabric glue to the jeans instead of stitching them..... and VOILA! Our Chocolate Bar DIY JEANS are done! But don't forget to take a BREAK a la Kit Kat while you are making these jeans for an extra sugar high! Happy Chocolate Day! Also, make sure to check out
Commonthread
by DMC where we got our supplies from and sign up for an all access VIP pass for fabulous deals --we are so excited for their launch next week!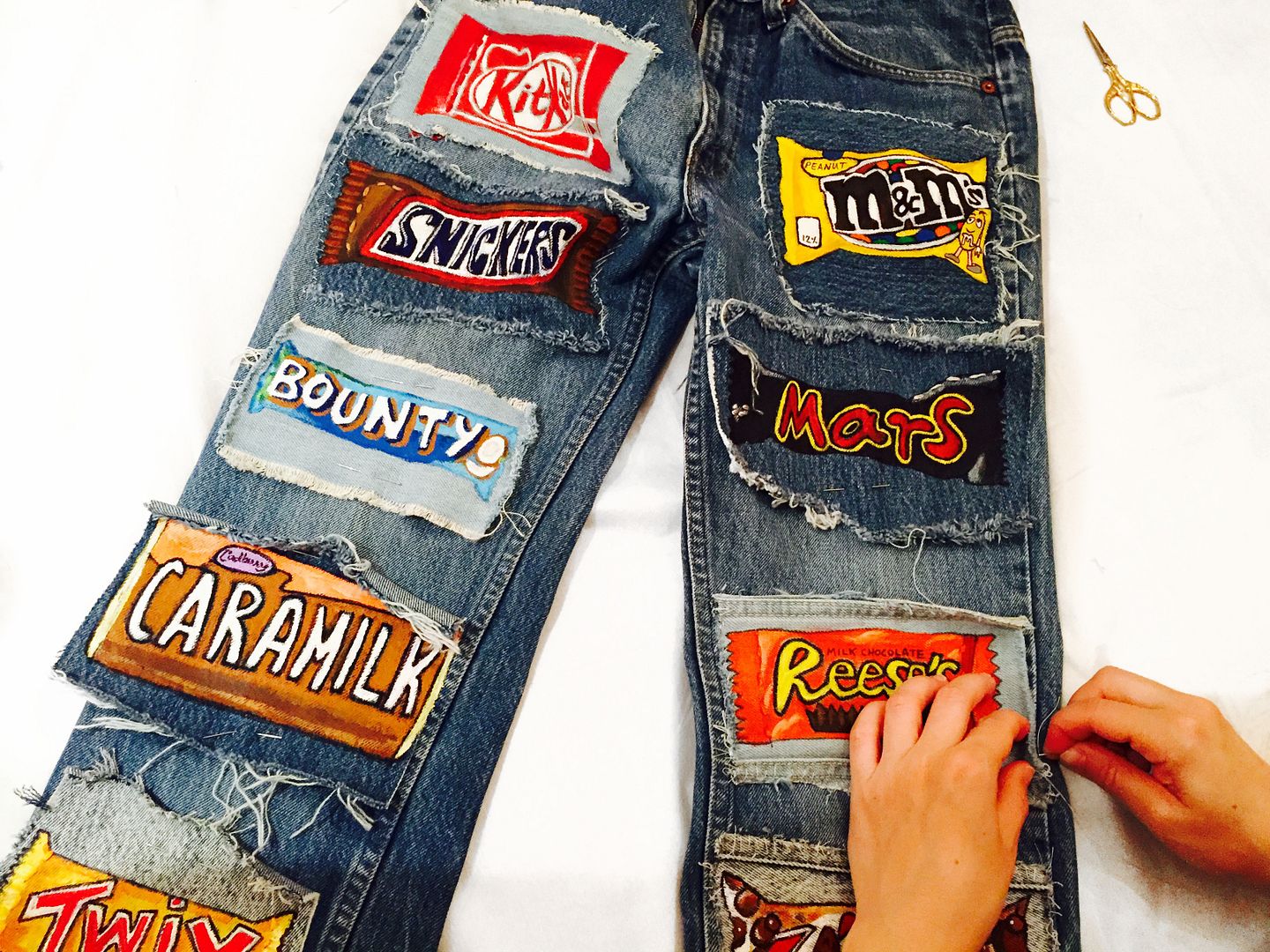 Pin It Now!